Man, 1994. What a time!
Today's commercial popped in my head, when I was thinking about how cereal commercials in the late 1980s up to the mid-1990s displayed a bit of obsessiveness toward having a very specific cereal. Today's theme doesn't necessarily go to that extreme, but it does ask the question of why one likes something so much.
The answer, my friends, is your typical kid response. Stick with me, and you'll find out what that response is!
This time 25 years ago (so, 1994), I was in sixth grade, the feeling of being at the verge of teenage life both exciting and terrifying. The familiar ways of elementary school would be over in nine months. I had the 1994-1995 school year to work on personal growth, strive and grow academically, and prepare for the next phase of life: bell schedules, lockers, and starting over in a new school district. And teenage life. Which was obviously different from being a preteen.
But, it was still September 1994, so I still had some time. I wasn't even twelve yet, after all!
Today's commercial could easily represent the life of the typical sixth grader, circa 1994, enjoying a bowl of sugary cereal…because they can.
Oh, and the common thread of today and tomorrow's commercials? Celebrity cameos!
So we have a group of girls…
…and a group of boys…
And the head girl – a bit of a snooty character – can't figure out these boys, or why they like Apple Jacks cereal.
Because, you know, it lacks the taste of apples.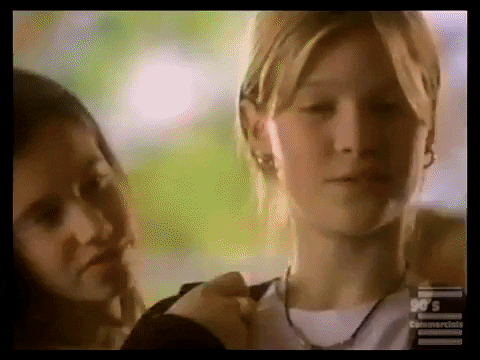 Find out the reason, when you click play!
Upload via 90s Commercials
Good answer, not-so-snobby girl.
And the boys are in agreement! So we'll all take a picture together!
Oh, and if you guessed that "Snobby Girl" was played by Julia Stiles, then pat yourself on the back…and eat some Apple Jacks! You're correct!
The "We Eat What We Like" campaign started in 1992, featuring kids giving this reason for why they like Apple Jacks, always in the face of authority, or jealous kids. The campaign was kid-focused, featuring kid friendly locations. At this time, it was becoming more recognized that children participated in family purchases, hence, cereals were creating advertising campaigns around this focus.
All Apple Jacks commercials from this time featured the kids who like Apple Jacks posing for a Polaroid. However, I don't remember the other versions featuring the year on the Polaroids. So that leaves us to assume 1994 was the "Year of Apple Jacks," which seems strange, but okay.
The campaign was brought back in 2007, though I'm sure the Polaroid part didn't happen. Because the kids of the 2000s were too cool for instant cameras, they had DIGITAL CAMERAS!
Apple Jacks has been part of a complete breakfast since 1965, the creation of now-MIT Profession William Thilly. Originally called Apple O's, the name was changed to "Apple Jax" (later Jacks, of course), and is in the top four cereal brands marketed within stores. Today, Apple Jacks are most heavily marketed on Kellogg's internet platform. It is a multigrain cereal flavored with apple and cinnamon, which proves Snobby Girl and everyone else who doesn't understand why kids like Apple Jacks wrong.
Just remember, that if you choose to prove your liking of something to someone who clearly doesn't share your opinion, you can snap a Polaroid of yourself. Don't forget to put the year on it.
"I'm Not Misunderstood '19" has such a nice ring to it. Or "Proud Geek '19."
Now, if only I had a Polaroid camera…
This commercial reminds us that we can like whatever we choose, even if we had to conform for the sake of not getting trounced on by the jerks in school. Because I'm not twelve anymore, I'm almost thirty-seven! And if I want to be a geek, then fine!
Oh wow, did I just black out? I was talking about Apple Jacks, and all of a sudden, I was having some type of negative flashback, except I told someone off. Wow, that was empowering.
Anyway, if anyone ever questions why you like something, just give them your best answer.
Even if "you just do."
Have a great Throwback Thursday!