It's Music Monday, and you know, I'm in a walkin' kind of mood.
No, I'm not about to tie my shoes and go for a walk, but I am in the mood for a fun song.  And after you see/hear today's selected music video/song, you'll feel good too!
After all, we can only hope for so much on a Monday!
You know those songs that have lyrics that don't necessarily mean anything, coupled with a music video that doesn't really match anything happening in those lyrics?  Here on Allison's Written Words, anything with a catchy beat is grounds for being a great song, regardless of what the song sounds like.  Today's song/music video is one of my favorite "it makes no sense, but I love it!" song/music videos.
The year: 1985.  The B-Side of Dire Straits' "So Far Away" contains a catchy tune about a singer busking (performing in a public play for gratuities) in a subway, playing oldies.  The music video for the song features just that – a street performer performing in a subway.  But bring it over to the United States, and it becomes a totally different music video.
Remove the street performer, bring on the sports bloopers and footage!
That's right, the British version of the video was given a totally different look once the street performer scenes were removed.  The footage of Dire Straits was kept intact, but the "Walk of Life" was fumbled plays, bloopers, mascot dances, crowd dances, and amazing sports plays.
It also features this…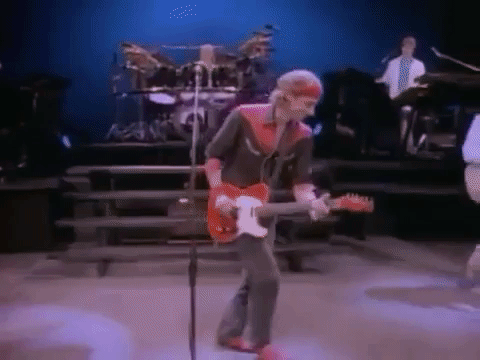 Now that, my friends, is the walk of life!
Would you like to see what happens when a British music video makes its way across the pond?
Click play, and have a little laugh, this is a great music video!
And here's the United Kingdom version of the video, for the curious!
"Walk of Life" came from Dire Straits' album Brothers in Arms, itself a successful album both here and in the United Kingdom. "Walk of Life" saw commercial success here, as it reached #4 on the US Billboard Adult Contemporary Chart, #7 on the Hot 100 Chart, #6 on the Top Rock Tracks Chart, and #10 on Cash Box.  Overall, in 1986, "Walk of Life" was #49 (of 100) on the Billboard Hot 100.
And, if you watch as much television as I do, you've probably heard the song here…
Actually, it was this commercial that got my interest piqued in listening to this song again. But seriously, it is so much fun, who wouldn't want to do a little "walk of life" to it?
And by that, I mean dance.  Who doesn't do a happy dance to songs like this?
Oh, you don't.
Just me?
Ok, I'll accept that.
Well, there you have it, a song that gives off a "happy dance" vibe, with an American music video that makes no sense, but is funny nonetheless.
Also funny?  The dancing.
Anyway, have a great Music Monday, take time to enjoy the music…and do a little Walk of Life while you're enjoying the music.  It doesn't hurt. 🙂