I have to admit that as hard as it was to watch the Eagles win the Super Bowl, a part of me is proud that they cracked the exclusive club that no other team in Tom Brady's reign with the Patriots has managed to join…they kept a third ring off Tom Brady's finger.
The only other team to do that?  My New York Giants, of course!
Twice.
If you are a Giants fan, it was understandably a tough season.  Injuries, bad coaching, and no one protecting Eli Manning.  It led to a disastrous 3-13 season (conversely, my boyfriend's Vikings had our record switched around).  And as sad as I was about the whole thing, the season ending was a sigh of relief.  Because you can only watch a trainwreck for so long.
I wasn't all that impressed by the commercials this year.  As someone who watches for the commercials (always has, and if my team makes it – BONUS!), the ones this year come up short.  I'm aware that I'm biased because I love nostalgia, but I didn't see anything that would go down as "nostalgic" and "memorable" in years to come.
Except for one commercial.
And yes, I did squee over the Avengers: Infinity War trailer, but I saw that in the movie theater and screamed alot.
My favorite ad of the evening, no doubt, was the NFL commercial with New York Giants' Quarterback Eli Manning taking on a whole other talent…dancing.  And parodying a movie his dance partner is younger than.
It was completely unexpected, but when it started…
…you just wanted the most beautiful and iconic moment to happen.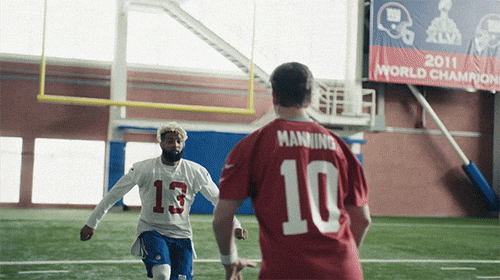 Our small Super Bowl party (consisting mostly of Eagles fans) agreed, it really was the best commercial of the evening.  It was also the one that earned me a text message from my mom, a Facebook message from my friend in Indiana, and a post tag on Facebook from my friend in Spokane, Washington.  All at the exact same time.
Because I'm totally not a Giants fan. 😉
If you ask me, the real winner of  Super Bowl 52 was Odell Beckham Jr. You can say he had the time of his life!
See what I did there?!
Go on, relive that magic moment!