Sing a song….on this Music Monday!
Happy post-Thanksgiving Monday, all!
So I'm getting ready to go on vacation (leaving tomorrow!), but of course, business as usual here.  I don't like taking time off when I can schedule posts in advance.  I was going to jump into Christmas music this week, being the beginning of the holiday season and all, but I'll reserve that torture for next week.
Because I have earworms.  That's the reason.
So lately I've been listening to Earth Wind and Fire's Greatest Hits Album, and I've have three different songs stuck in my head.  One of them tends to bang its drum a little louder than the others (not in a bad way, mind you), and that's how I chose Music Monday for this week!
This week's earworm – I mean, song selection – comes to us from 1975, the era of disco and funk.  I'll take the reins of the latter for this one.  The group?  Earth Wind and Fire.  The clothes, hair, and sound?  Amazing.  The song?  Why, "Sing A Song."
"Sing A Song" comes from the band's 1975 double live album Gratitude. It spent two weeks at #1 on the R&B singles chart in January 1976, and #5 on the Billboard Hot 100, is certified platinum, and is regarded as one of their most popular songs.
I love this song!  This is everything I love about Earth Wind and Fire.  I never knew how much I really liked their music until I saw them sing it live, and I think it had to do with the dancing – these guys can move!
See for yourself!
I asked my mom after the fact about why they don't wear these amazing outfits anymore.  She didn't really answer my question, but I'd suspect she may think I'm nuts for asking.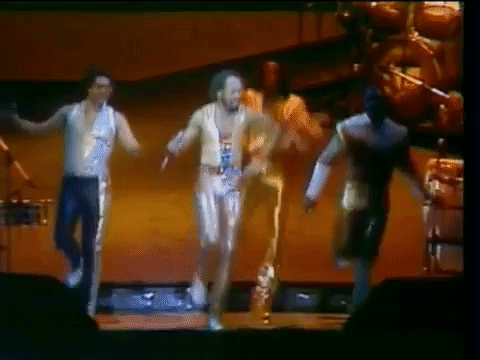 Seriously, those outfits are AMAZING!!!!!
So much afro and sparkle amazingness!!!!
And if you like live performances, do I ever have one for you!
I give James Pankow credit for trying that kick.  Don't ever say white guys can't do this!
And there you have it for Music Monday!  Next week, we kick off a festive Music Monday, featuring a different Christmas song each week leading up to Christmas!
Have a great Monday, and enjoy the music!
When you feel down and out, sing a song, it'll make your day yeah yeah…