Related: Forgotten Easter Nostalgia: A Family Circus Easter
If I've said it once, I've said it more than a few times when I've written about obscure holiday animated specials: there's an obvious reason why some specials are timeless and air every year, and there are reasons why some rotate out of holiday special lineups, never to be seen nor heard from again…until someone uploads it to You Tube.
As you've noticed, I tend to hunt down obscure specials and write agonizing recaps on them.  Why is that?  Is it because I'm a glutton for punishment?  Well, ok, maybe to myself if the special is terrible.  Is it because I enjoy animated specials? Yes and no – I love finding them, but I don't always enjoy watching them if they're particularly dated or unappealing. Or is it because of my undying love for nostalgia and bringing obscurity to the forefront is my aim?
By George, I think I've found my reason!
Nostalgia is my lifeblood, whether it's mainstream or obscure, beloved or hated, animated or live action. It's what keeps Allison's Written Words going, while being a small part of a much bigger whole.  And for those of you who find yourself here, reading my work, and genuinely enjoying it, thank you! I am forever humbled by the appreciation I've gotten from those who take the time to re-tweet my posts, respond to the Twitter posts for my work, and from those of you who actually know me and have approached me to tell me that what you read today made you laugh or inspired you.
That all said, before I get into a mushy tangent, let's actually get to the meat of the article!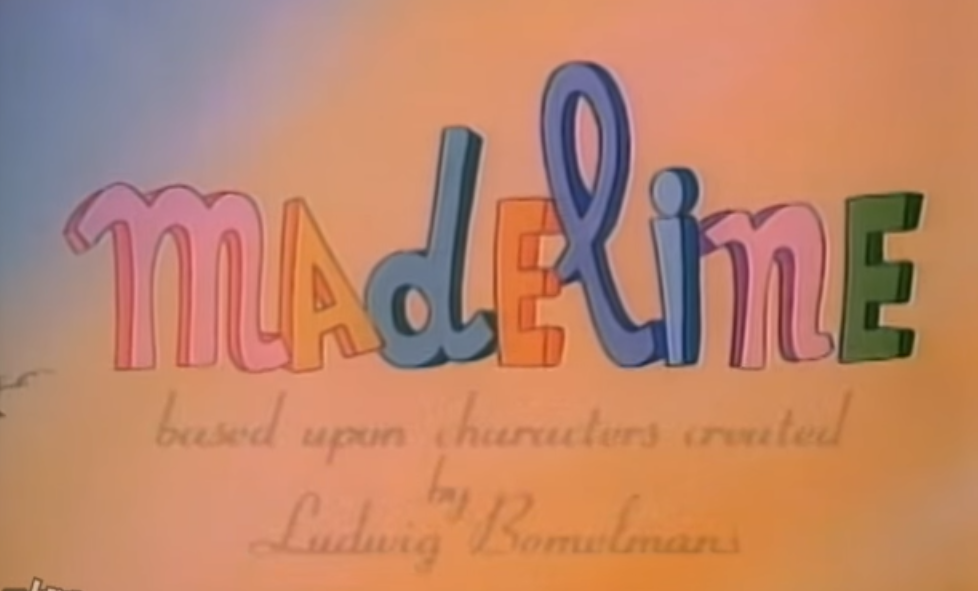 For your Easter reading/viewing today, here's a delightful Easter treat from the 1990s Madeline television series.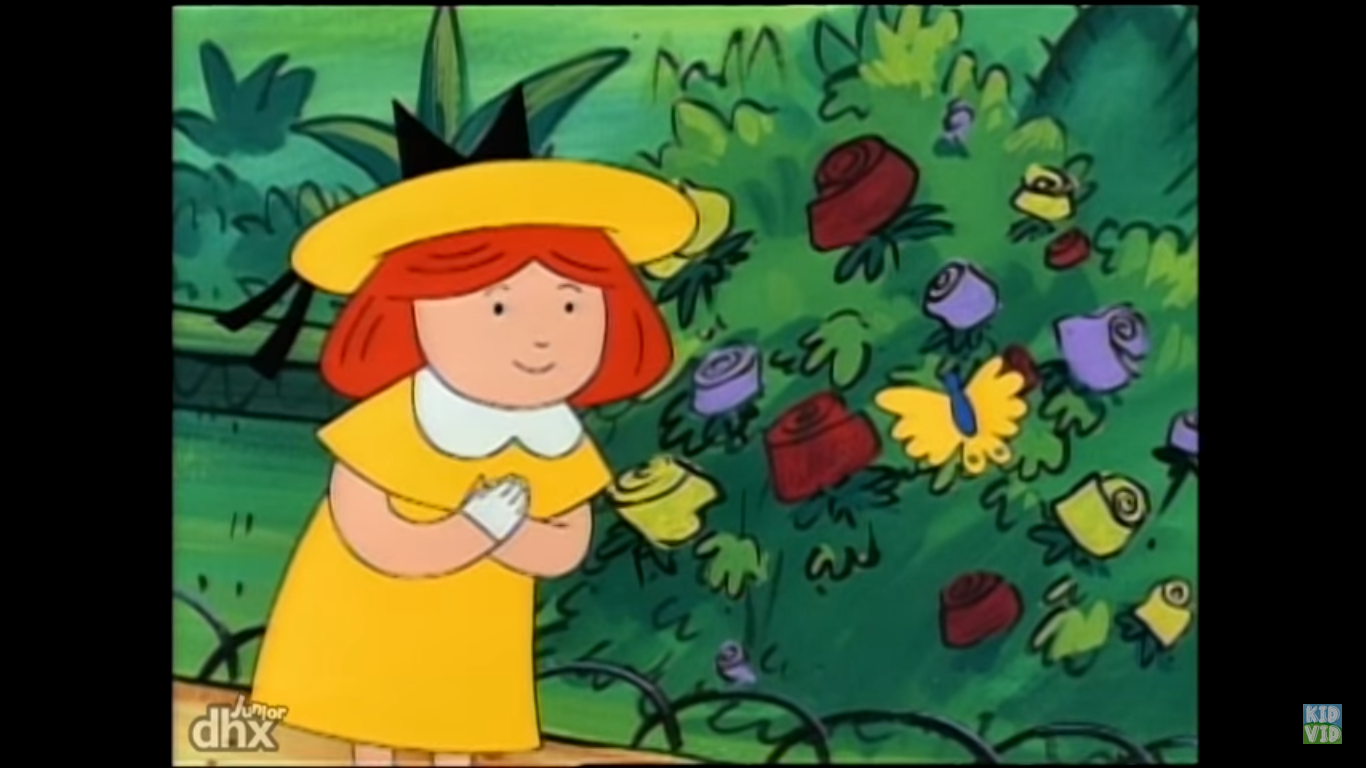 For those unfamiliar with the book series (and all the adaptations), Madeline is young Parisian girl, one of twelve under the care of Miss Clavel. She was the star of a series of books written by Ludwig Bemelmans, beginning in 1939.  Beginning in 1960, several series and specials were produced featuring the delightful child and her adventures, including six specials from 1988 until 1991, an early special in 1960 on NBC's The Shirley Temple Show, an a three-season show that aired in 1993 and 1995 on The Family Channel, and 2000-2001 on The Disney Channel.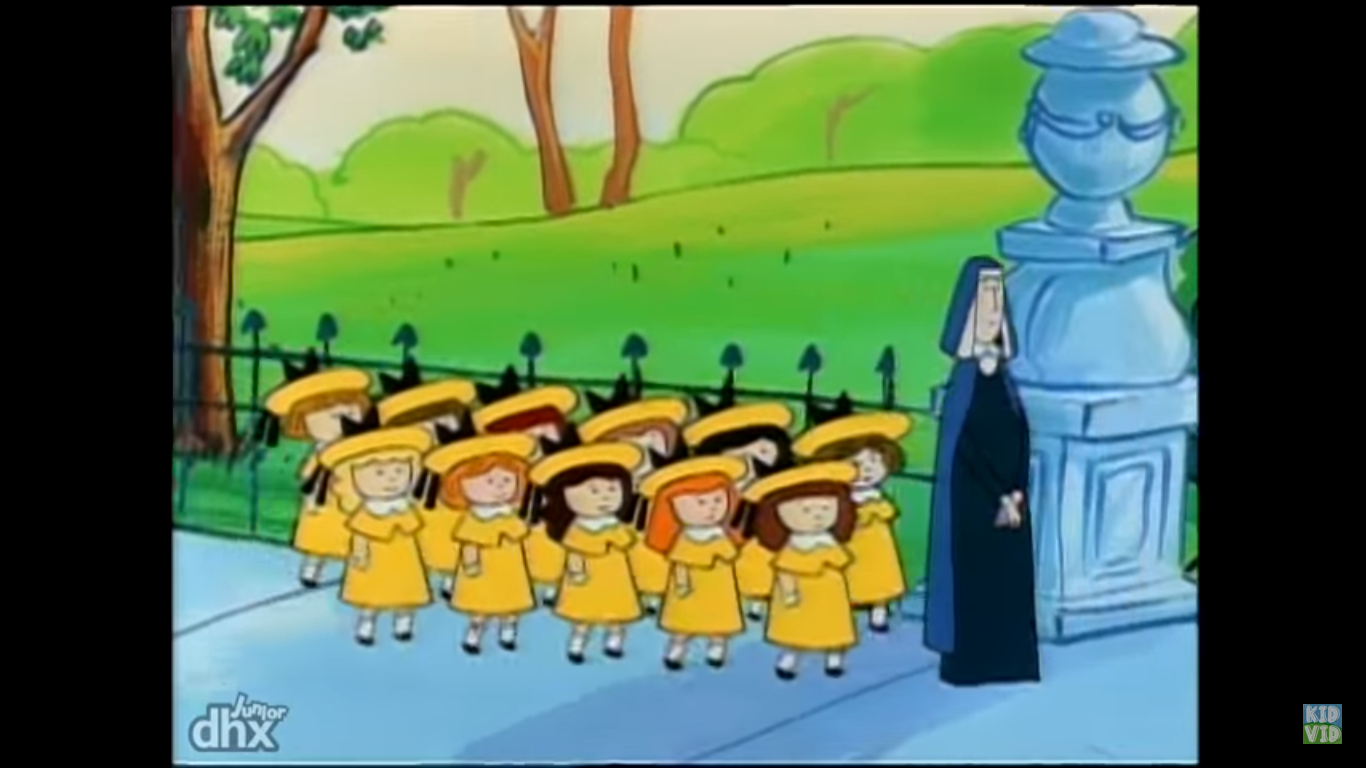 It also strikes a happy chord in my OCD heart when people are in perfectly straight lines!
There was also a live-action movie in 1998, but I was 15 years old and "too cool" for kid's movies by that time.  Oh ok, fine, I still only watch stuff like this around holidays.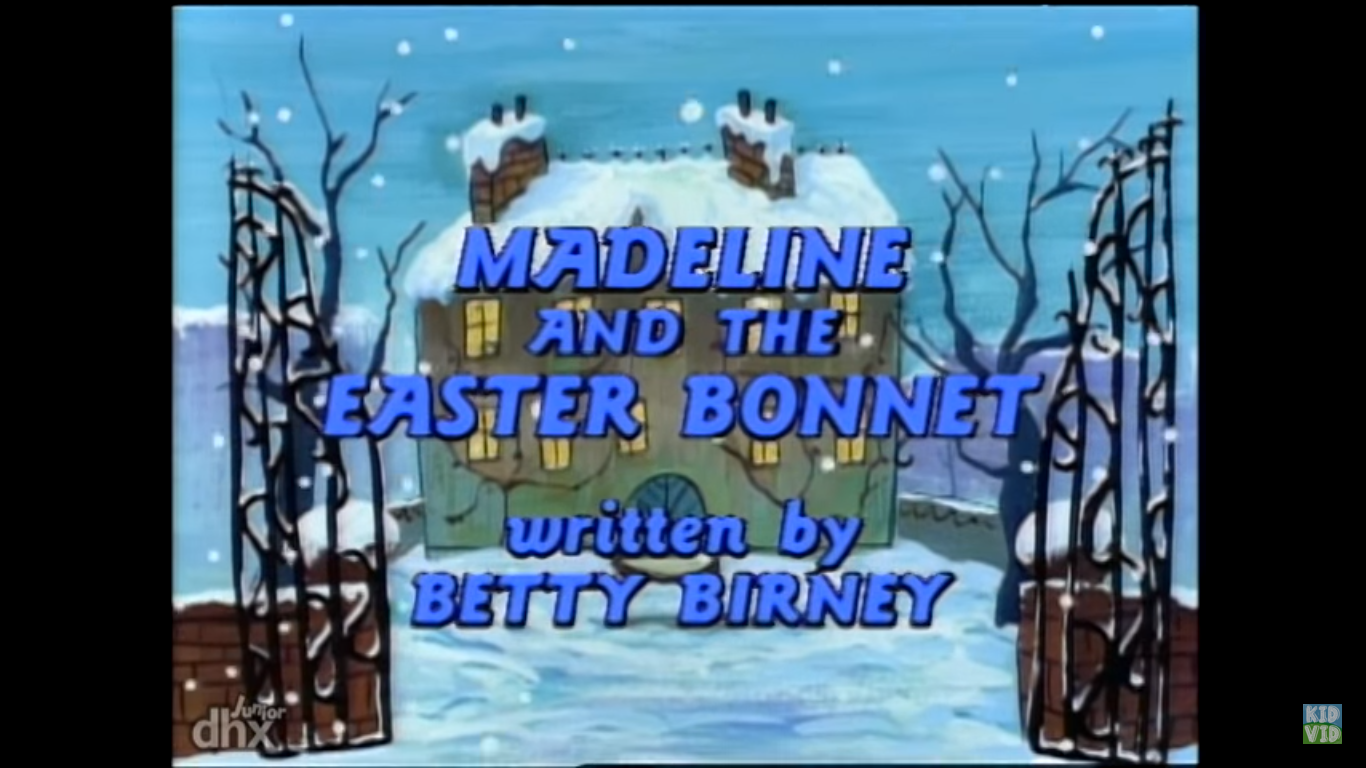 In "Madeline and the Easter Bonnet," the little charmer of a girl (along with Miss Clavel's other charges), want to make Bonbon the Milk Cart Mare's dowdy old hat into a beautiful Easter Bonnet (or "Heavenly Hat" as they sing about it).
Bonbon, who will only deliver the milk with her bonnet, is agreeable to the hat the girls created, but a gust of wind takes the hat on a journey, and the girls and Miss Clavel chase it through the streets, but for naught.
The hat makes a floating journey through Paris, wreaking havoc and eventually winding up in Monsieur Bagatelle's hat shop, where a finicky customer falls in love with the grand bonnet and orders five of them – one for each of her four daughters, and one for herself in time for Easter.  Monsieur Bagatelle is pleased with this prospect.
Meanwhile, Bonbon will not budge without her bonnet, and Madeline laments over the situation that will potentially happen from milk not being delivered in Paris. So the girls and Miss Clavel decide to deliver the milk themselves, and it is on this mission that Madeline spots the hat in the shop.
She tries to negotiate with Monsieur Bagatelle to allow her to have the hat back, and he insists she teach him how to make this apparently in demand hat.  Sounds like how all great viral trends begin, doesn't it?
And with the help of her friends, the group creates new hats in sweatshop-like conditions – er, in Monsieur Bagatelle's shop, and create a whole new crop of hats.  The girls even model their new creations in the spring fashion show.  And yes, the woman and her daughters are satisfied with their newest acquisitions.
But then there was Bonbon.  Poor, poor Bonbon. She is still without hat and unhappy.  And when she tries to steal her beloved hat back from the woman who wanted it in the first place, Madeline apologizes, gives the woman back her prized new hat…and presents Bonbon with her own new, fancy hat. This delights both Bonbon and her owner, and the milk gets delivered, saving the day in Paris! Vive le Madeline!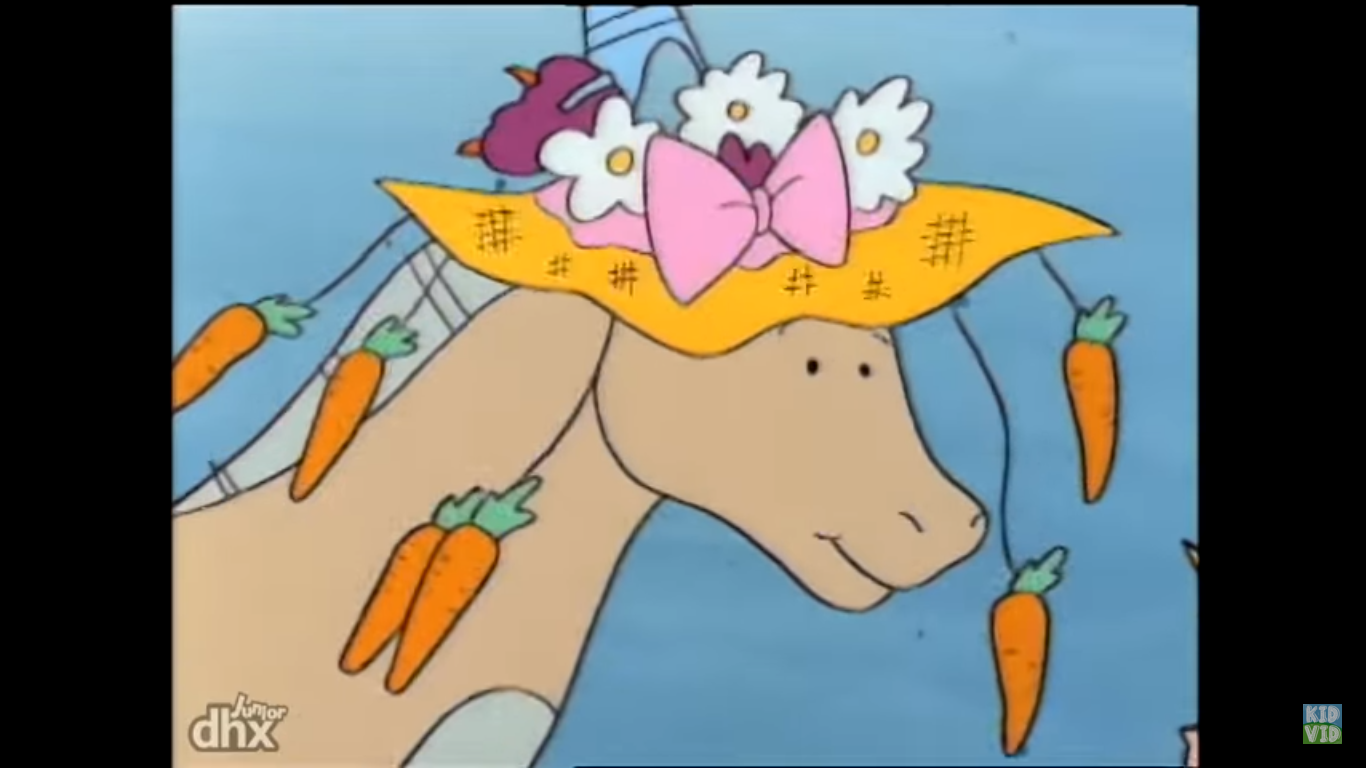 You see a tacky Easter bonnet, I see the next big trend in horse wear!  Beautiful, functional, and DELICIOUS!
And on Easter, after the girls return from church, Miss Clavel finds a surprise awaiting Madeline.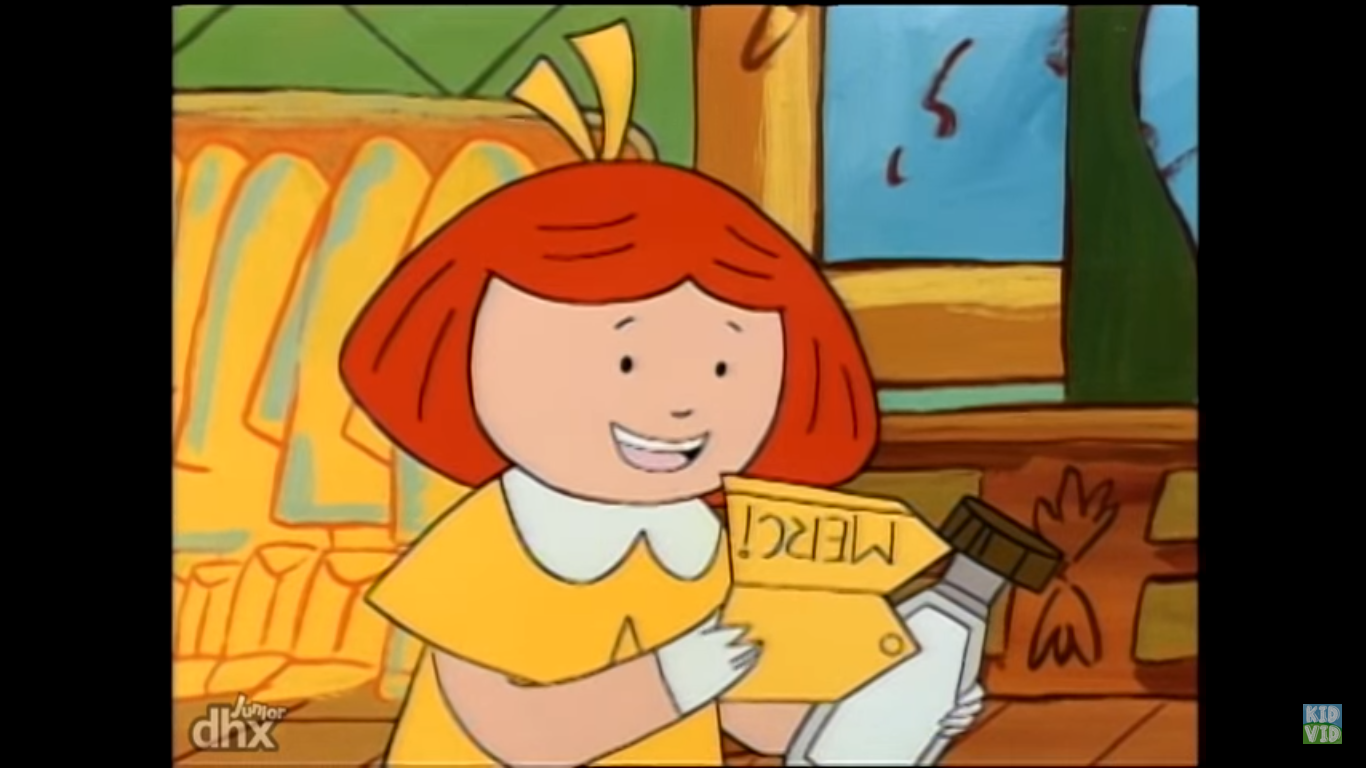 The milk was delivered!
And as every Madeline story concludes, "That's all there is, there isn't any more."
Actually, there is more, because this me and my writing we're talking about!  Click play below to watch Madeline's adventures around Easter!
"Madeline and the Easter Bonnet" was part of the show's first season, and aired on September 22, 1993, or Not Easter.  But, since it mentions Easter Bonnet and spring, and well, Easter, it qualifies as a holiday special.
I will not lie, this was ADORABLE!  I absolutely loved every minute of this cute little cartoon, and I don't recall ever reading the books.  I also never watched this cartoon, but wow. so adorable and charming. I'm impressed with how not annoying this was to watch, since alot of child-appropriate stuff that was made when I was a kid is not exactly high on my list of fond memories in hindsight. But this, this is truly exceptional.  Methinks I'll be looking into more of these in the future.
Well, I hope you enjoy your Easter festivities if you celebrate.  May you have a blessed holiday, surrounded by the little things and people who matter most.
And eat alot of chocolate.  It's only right. 🙂
And to take a page from the stories, "that's all there is, there isn't any more."
Happy Easter, and Merci for reading!