It's a world of color, as beautiful as can be!
And it's Friday, so naturally we're singing songs of praise!  Along with that, we're digging through the plastic bin/tote and unearthing another doll from the early 1990s for our playtime.  We like our scented dolls, so we're sticking with them today.
Once Strawberry Shortcake vacated the "dolls with delicious scents" niche, the world was left without such a gem until 1988, when Cherry Merry Muffin and her band of ever-changing friends carried their muffin tins into the hearts of many a late 1980s and early 1990s girl.  That venture proved to be short lived, and as they were closing up their bakery, another group of dolls and their scents arrived on the scene.
And boy were they fancy…and smelled good!
And they did this!
OMG, who are these lovely ladies with the ability to just pop up like that?
Why, the Cupcakes!
Delicious!
Cupcakes were a series of dolls originally produced by Tonka in 1990, and Kenner in 1991 and 1992.  They're still around to some degree these days, having various reboots since the mid-1990s.  But the originals were in this commercial.
The original series of dolls featured Candy Sprinkle, Cutie Fruiti, Sugar and Shine, Cotton Candy, Tropical Treat, Princess Parfait, and Jam Pops.  The collection featured in this commercial were special holiday ones (from 1991).  The dolls were cupcakes in disguise.  Their cupcake cup opens to reveal a long haired beauty of a doll, with the cup as a dress.  Their giant hats serve as the cupcake frosting.
The dolls in this particular wave of Cupcakes were the Sugar and Shine/Sugar and Spice dolls – Honey Drop, Crystal, Sugar, and Sweet Sue.
Cupcakes disappeared after 1992, but were re-issued by a different company (Fun Source) in 1998, and later saw revivals by Radica in 2005, Estrela from 2012-2015, and Emco in 2015.  These days, if you want something like Cupcakes, there is a version called "Cupcake Surprise," and they're available on Amazon for less than $7.  They're the same in concept, but in my honest opinion, not as pretty as their 1990s counterparts.
Though I will say, this one is pretty!
I remember the original Cupcakes dolls well, and after seeing the commercial, I'm convinced I had one, but I'm not 100% sure.  Being that these were around the first time between the time I was 7/8 and 9/10 years old, I would have loved these.  I had Cherry Merry Muffin, that I remember well, but I really don't know if I had them, or merely played with them (I know that I've done at least that).
I thought the concept of this would only have been interesting in the 90s, but the fact that these are still around today is nice, and that they've retained a certain air fanciness that the original ones had.  They're all Southern Belle-like, and make this look cool!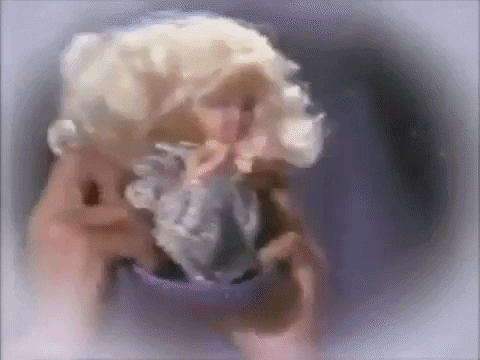 The reveal part, not the "kissing the doll" part.
Do little girls kiss their dolls in commercials anymore, or was this only mandatory in the 1980s and 1990s?
Alas, we put back our scented surprise dolls back into the plastic tote with all the other girly toys, as we wrap up a very 1990s playtime this week.
We had fun though, didn't we?
Have a fantastic Flashback Friday, and a great weekend!