It's a day in the life of a family.  Maybe a little bit like yours?
Like mine?
Oh, you mean, like this family?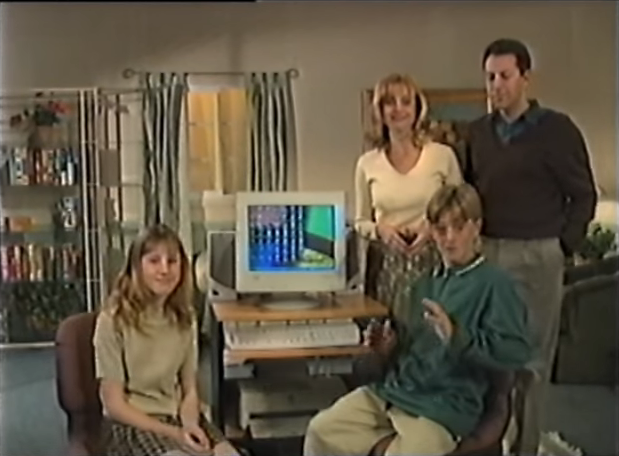 Yeah, we look nothing like this pre-fab family.
How To 1980s and 1990s
The 1980s and  1990s were full of instructional videos on how to be at home alone, how to be cool at parties, and even how to use home electronics and advancing technology, such as computers.  From a couple of Friends learning Windows 95 to the whitest family teaching us to operate our new computer, the 1990s were silly with computer instructional videos.  The clear aim (especially with today's video) was to appeal to the average computer user/buyer, to relate to them.
What we actually got was the pre-fab whitebread Jamison Family (not a real family, but one constructed for the cameras as a family everyone can relate to…supposedly), and their instructional aide was The Family Guide To Computers.
By the way, those other two categories of "instructional" videos exist (in the 1980s), and I've seen them.  They're hosted by someone 80s famous.  I won't tell you who, but I'll definitely be looking at them in overly great, painstaking detail.
You're welcome.
Anyway, let's look at today's video filed under "1990s Computer Learning," with a comprehensive guide to using the new family computer
"All Because Of A Computer Chip!"
The Family Guide To Computers was released by Diamond Entertainment Corporation (or DEC) and Hometown Television in 1996, the first of their two videos to discuss the topic of using the computer.  The "instructional" video (actually, it is quite instructive for its time) features "The Jamison Family," which was not a real family, but one put together for the purpose of teaching us how to use the new family computer, on a relatable level.
Featuring "Sweater Dad," "90s Soccer Mom," and their two children, who look like kids I went to middle school with (I was in eighth grade when this video was released, if that has an relevancy here), this video explains all of the basics of using a family computer with Windows 95 installed.
Everyone, including the kids, explains different topics of using the family computer.
What does the Jamison Family educate us on?
High Tech, Low Tech…
There's setting everything up (and checking that everything works), an overview of Microsoft Office software use(creating documents in Word, setting up spreadsheets in Excel, database construction in Access), as well as installation of said software, use of graphics programs, preventing computer viruses, utilities (backup and un-erase programs).
Oh, and there's CD-Rom Excitement (yes, that is an actual title card in this video, complete with an exclamation mark).
Printers, voice recognition, and peripherals (specifically games) installation and use are also discussed.
What's a default printer, plug and play, suite, and bundle mean?  It's all included!
So is this witty side banter about Duke Nukem. In 1996, Peter was all the boys who wanted that game!
Take A Seat, If You Dare!
No seriously, it is kind of a dare, since "Sweater Dad" is a bit handsey and stare-sy with "90s Soccer Mom."
That's a whole other video, often shown in new hire training and a certain kind of work-related seminar.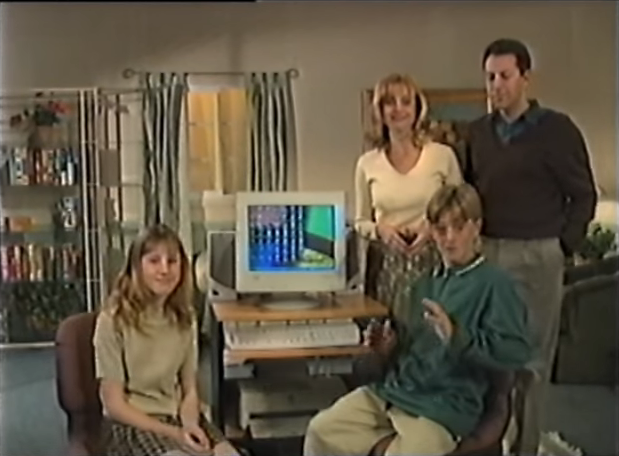 It is amazing how far we've come since the days of "The Jamison Family" and their instruction, partially because of technology being what it is today, but also because instructional videos like this are a dead art.  It has its eye-roll moments, but also its "oooh, I didn't know that!" moments.  In 1996, this was helpful.  In 2020…it's not.  But it was good to know that if you needed this at the time, it was readily available, and that this "family" was there to show you the way.
The dialogue itself is terrible, and the whole thing has this infomercial, department store furniture showroom kind of feel.  But the meat of the video, the actual instruction, is great.  Once you push aside all of the banter (it isn't the witty kind, trust me) and awkwardness of the acting, the information is great for a beginner navigating the world of using the home computer.
Which by the way, doesn't belong in the middle of the living room.
Honestly, did this not bother anyone else?
Dasha and Peter, in the video, are like every 90s kid – their excitement over the prospect of a family computer was how all of us felt in the 90s when we got a new computer.  When did we lose that excitement for amazing new technology?  Was it directly because of videos like this?  I'd like to think it wasn't, but just that kids are introduced to computers so early.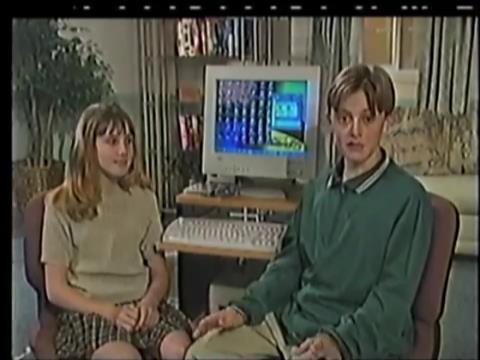 Power Up, Download…
If you're interested in watching what it was like to learn computers in the time of building technology, The Family Guide To Computers is on YouTube, and well, I have it here for you to watch!
It's 28 minutes of laughs (not at the forced attempt at humor), but it is a fun little tidbit of nostalgia.
Click play, won't you?
The Family Computer In the Venezio Home
By comparison to today's kids, I was almost nine years old when I had my first Computer Science class in school – that was in 1991!  Not learning any of this until third grade was pretty common, unless you were of the lucky few to have a computer in the home – we did not have one early on, nor did most kids in my school.
My first "computer" was actually a cool little VTech toy called Smart Start.
VTech always made cool toys.  This one, from 1987, had activity books which required you to make multiple choice selections, and also had music and math buttons.  We got this at about four or five years old, and it was, as I remember, alot of fun.  I loved thinking of this as a computer, and long after I outgrew its purpose, we would play "office" and this would be the computer.
Yeah, I'd like to think my pretend play at eight years old set me up for my career as an Administrative Professional.
We actually got our first computer in 1994 – I think it operated on Windows 95.  It got upgrades a few years later to Windows 97, later to Windows 99, and eventually, I bought my first computer for my own personal use (my brother had gotten his own laptop by the early 2000s) in 2003, running Windows XP.
I've always loved computers, from the learning games I played as a kid to the way I use computers now – for editing videos, converting my videocassettes to digital, and of course, writing.  I own a Dell laptop and a Microsoft Surface Pro 6, and I love them both.  The computer has made my life easier, and I remember back in the mid 1990s how much of an exciting novelty it was to have one in the home.  Those days, it seems, are long gone, but YouTube does a nice job keeping amazing nostalgia like The Family Guide To Computers alive and well.
Oh, and if this living room looked too much like a furniture showroom at a department store, that's because it came from a Sears Homelife Store.
And the computer came from "The Good Guys!
Wow, this is nostalgic on too many levels!
And Now, You!
What are your memories of owning your first home computer, or using a computer?  Was your reaction to owning one at all like the Jamison family?  Are you a from a Jamison-type family?  Sound off in the comments below, or get social on social media! I'd love to hear your story!
The Jamison family will return…next week.
No, seriously, they made another video about computer education!
Apparently, they made two episodes of their failed sitcom and they had more material to use up?
Until next time, have a great day!