…or Lisa Frank stuff in general?
"Too Cool For School" Month continues on Allison's Written Words, where Locker Answering Machines, pocket folders with toned, jeans-clad butts, and Trapper Keepers are all you need for school.  Well, until today's featured brand.  Because if you are female, and were in school during the 1980s and 1990s (especially the 90s, so we're talking my school years here), you had at least one thing from today's product line.
I certainly did, and I mentioned it in last week's Trapper Keeper article!
Neon Landscapes, Animals, and Psychedelic Everything: The World of Lisa Frank
When hitting the back-to-school sales, one brand that was prevalent in many a school supply section was Lisa Frank.  The brand stood out, with its bright colors and interesting designs.  Animals in the Lisa Frank world weren't just animals – they were psychedelic and neon.  In fact, everything was psychedelic and neon.
Pencils, erasers, stickers, pocket folders, even the ultra-trendy Trapper Keepers – everything was fair ground for the "Lisa Frank Touch."  But the story of Lisa Frank – both the person and the company named for her – goes back before the colorful school supplies we all admit to having at least one thing from.
Lisa Frank, a 1972 graduate of Cranbrook Kingswood School in Bloomfield Hills, Michigan, attended the University of Arizona to study art, as it had been a large part of her life since childhood.  The spark of interest came from her father, an art collector.  It was during her time at the University of Arizona (during her sophomore and junior years), that Frank created her first venture into art as a commercial product – a line of plastic jewelry called Sticky Fingers.
The line specialized in colorful fruit and novelty characters, including Betty Boop.  The line of jewelry sold in Neiman Marcus and Bloomingdales, and was the beginning of Frank's career.  In fact, designing this jewelry inspired her to create colorful stickers, which launched Frank's self-named company.
Lisa Frank Incorporated Launches
In 1979, at the age of twenty-four, Lisa Frank established her self-named company.  It only produced stickers at first, but received its first million-dollar order from Spencer Gifts.  The original stickers incorporated designs used in the Sticky Fingers line of jewelry.
The company's designs began with a concept, then moved to pencil sketch, before being translated to an 18×24 painting to await approval.  Until 1989, the designs were airbrushed, and the process of designing each piece of art took between nine and thirty-six hours to complete.
By 1987, Franks' designs moved beyond stickers, and to the world of school supplies.  The supplies featured the original designs, including Panda Painter.
I totally remember this one – it was EVERYWHERE!
The original characters, despite the introduction of newer ones, have remained the most popular over the years.  The original commercial slogan, "You Gotta Have It" debuted in the late 1980s, and well, it was a true statement.  We really did "gotta have it!"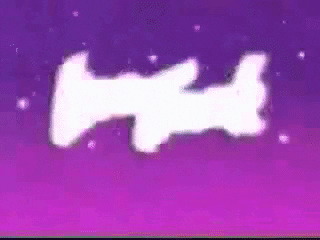 "It" refers to sparkly and neon, of course!
The product line moved beyond stickers at this point, to pencils, erasers, pens, pocket folders, backpacks, pencil cases, erasers, and yes, the treasured Trapper Keeper of our youth…including mine!
Yes, I had a Lisa Frank Trapper Keeper – the one with the psychadelic flamingos on the beach in glorious…moonlight, daylight, moonday?
OMG, that was amazing!
…And Yes, Lisa Frank (and Her Company!) Are Still Around!
Lisa Frank is currently the CEO of her company, taking the position from her ex-husband as part of divorce proceedings in 2005.  They were the company's sole stockholders at the time, and the settlement required that her husband sell her his stock at a discount.
In 1989, Lisa Frank Incorporated switched from the time-consuming method of airbrushing and painting its designs, switching to the use of computers.  This not only changed how the product lines were produced, but had an effect on the products they sold.  As a result of shifting to technology to create the designs, more complicated and intricate works of art were able to be created.  Hence, the diversity of the products they sell.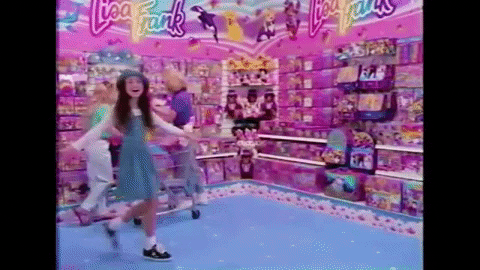 Due to the advancement of technology, and the use of electronic communication, Lisa Frank Incorporated has taken a step back in production of stationery.  However, they have developed two iPhone apps, one that customizes pictures with Lisa Frank-designed Clip Art, and the other an app of Lisa Frank coloring pages.
The glory days of Lisa Frank's colorful designs dominating back-to-school aisles, as well as stationery aisles at other times, seems to be a thing of the past.  Products are harder to come by, and the company that once had employed 500, now employs six at its office space near Tuscon International Airport.
The Brightly-Colored World of Lisa Frank…The Internet Edition!
One of the things I love about the internet, as I always have seen it, is the ability to find just about any whim or random thought that pops in my head.
Of course, I had to go on the hunt for Lisa Frank-inspired (and authentic) stuff/
Behold…
Urban Outfitters, which proves you can't keep a company with its biggest glories in the past solely in the past, sold a line of products on their website in 2012, which included Trapper Keepers and stickers.
If only I'd known these were a thing in 2012.  How was my Nostalgia Spidey Sense not tingling in 2012?
I also, through a little searching, found some Lisa Frank-inspired art on one of my favorite sites, Red Bubble!
If you're looking to color something Lisa Frank-esque, Mom Junction has coloring pages, as does Coloring-Pages, If your itch extends to owning all the same Lisa Frank stuff you owned as a kid, Amazon has an impressive stock of items for your perusal.  And always, there's eBay, which requires no explanation.
Because when "you gotta have it," well…you know.
Lisa Frank Videos!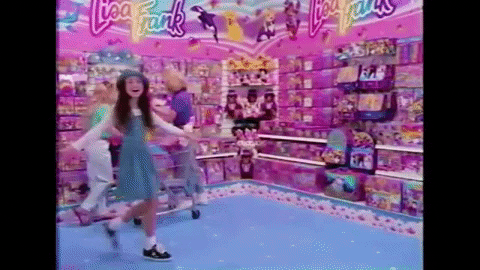 It's going to seem strange, but for the sheer amount of kid-oriented programming blocks and Nickelodeon-watching I did in the late 1980s and early-mid 1990s, I don't even remember commercials for Lisa Frank.  I always saw the products in stores, and well, they always seemed to sell themselves.  They didn't need advertising – those bright colors drew you in on their own merits.
But alas, the other most effective form of advertising, other than the product selling itself, is actual advertising.  And there were commercials.  Don't know how I missed them, but I did.
Here's the "You Gotta Have It!" commercial…
Upload via RetroJunk Fan
And here's one with a young, pre-That 70s Show Mila Kunis…
Upload via Carlos Terrazas
CNN did a profile on the company in a "Business Unusual" segment on November 28, 1998:
Upload via Dr. Audrey Guskey
Urban Outfitters also did a behind-the-scenes look at Lisa Frank Incorporated in 2012, and yes, her office is as magical-looking as the products her company has created over the years!
Upload via Urban Outfitters Television
So, um, yeah.  You gotta have it, so you got it.
Allison Had It!
I admit, I probably wasn't as huge and fanatical on Lisa Frank stuff as, say, Mila Kunis was in the commercial, but I did have some Lisa Frank stuff – the aforementioned flamingo binder, a jewelry kit, and a diary.  I'm sure I had stickers (I know the jewelry kit had some).  In the 90s, these products were everything for girls ages 4-12 (their target market), and the beauty part was that if you were a little kid in the late 1980s, who became a teenager in the mid 1990s, Lisa Frank stuff grew with you.
It's probably why nostalgic women in their 30s are so obsessed with rainbows, unicorns, and colorful stuff.  This is what we were immersed in growing up!
And Now, You!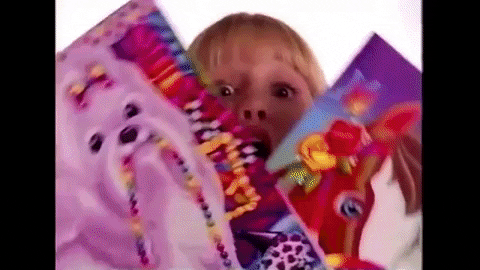 Do you remember the world of Lisa Frank?  Did she rule your school supply buying and bedroom decor?  Sound off in the comments below, or be social on social media!
"Too Cool For School" Month wraps up next week with a final school supply we all needed to have for our very cool school life.
Until next time, have a great, sparkly, dreamy, rainbow-clad day!