Clap clap clap!
Earworms, folks – I say it all the time.  This will be with you ALL DAY LONG!
Considering that it is Friday, is that really such a travesty?
So yesterday we watched a commercial from the archives of Allison's Written Words for a defunct toy store chain, and today, we're going to do the same for a different chain.
Today's commercial from the archives comes to us from 1988, for the New York City-based Lionel Kiddie City (also known as Lionel Playworld, Lionel Toy City, Lionel Play Town, Lionel Toy Warehouse, and Lionel Toy Town.  Like Child World of yesterday's article, Lionel's chain of toy stores (which sold everything the OTHER major stores did) were a direct competitor to the Dark Overlord of Toys R Us, and like Child World and its kin, it didn't stand a chance during the recession of the early 1990s. The stores were established in the 1960s, and by 1993, they were gone.
They also had a catchy jingle that you just might remember – I heard it in 2007 for the first time since the early 1990s, and it brought back memories of not shopping in Lionel Kiddie City.  Nope, I wanted to go there when I saw it across the street from the one Toys R Us store I used to go to, but no, I never went in.
This particular commercial combines the feels of a toy store, grandma, and grandma taking us to a toy store.
We ❤ grandma, the song basically implies.  Because she takes us to Lionel Kiddie City!
Click play and let the feels and jealousy kick in!
Because at Lionel Kiddie City…
…the jingle gets stuck in your head…upside down!
I know that's not how it goes, but it's funny!
How about a bonus for this Friday…some more commercials?
Here's more from the archives of others (including ones for Lionel Playworld – same jingle, just a different name).
And yes, some of these are Christmas ads, which makes me wonder about how they survived when the abundance of Lionel Kiddie City/Playworld ads on You Tube are Christmas ones.
Oh hai, Seth Green!
Did I turn your frown (clip clap clap) upside down with this?
And there you have it, a collection of commercials for now-defunct toy stores that directly competed with Toys R Us…and failed.
But they succeeded in making you smile with their catchy jingles…
And terrifying you with their Not Geoffrey the Giraffe Mascots.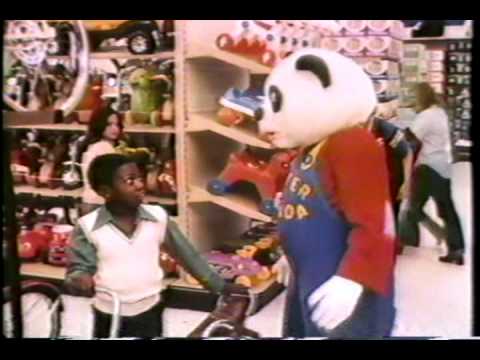 Well…ummmm….
See you next week?